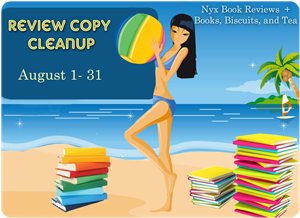 Hello, bookworms! The two awesome bloggers from Nyx Book Reviews and Books, Biscuits, and Tea are having this wonderful Cleanup where you plan to read all the review copies on your pile...
So, guess what? I signed up, I feel like I have a lot of review copies that should have been finished (a long time ago) ... I am planning to read at least half of these review copies:
Should be a blast working my way through this stack. So stay tuned and see how far I can get this pile down, plus watch for the reviews!!!